You can edit these photos!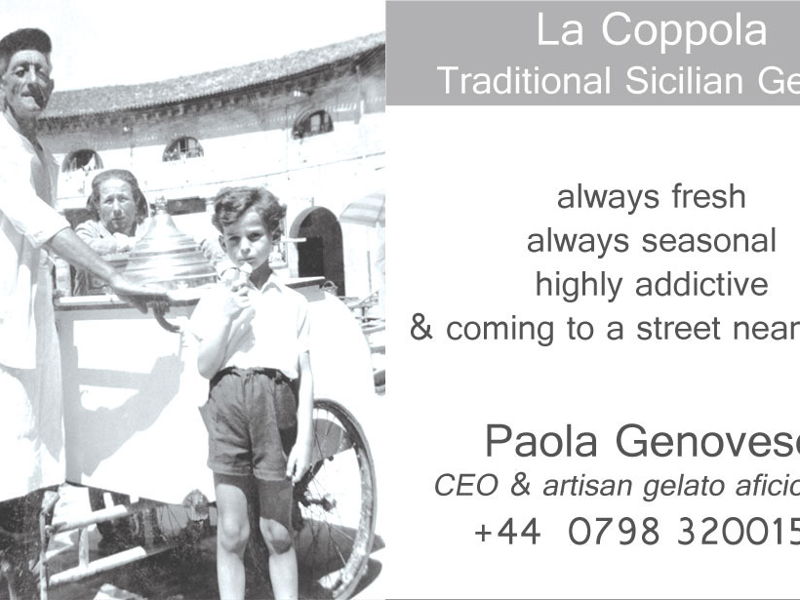 What it's About
La Coppola's gelato is:
- always fresh
- always seasonal
- and made with locally sourced ingredients
-Always fresh as it is made daily with organic ingredients and traditional Sicilian recipes.
-Always seasonal as we use the fruit that comes with the season
-We source the ingredients from farms and orchards in the UK
Our target is people who dont mind spending a bit more for an homemade, organic gelato because they have high standards when it comes to food: They eat organic, are on a raw food diet, cycle around Hackney, go for BBQs in Victoria Park and London Fields, go to festivals and love farmer markets.
We are going to start by selling our gelato in Hackney with a pushbike vending cart to reach out to people. The second stage will see us moving to fixed premises with pop-up shops in different London locations, starting a delivery service for corporate clients. The final stage will include workshops for start-up food enterprises and classes to teach youngsters how to make gelato.
Everybody can sell ice cream, only La Coppola can offer you a gelato which is always fresh, always seasonal, always local.
About the Brand
La Coppola ice cream is an innovative social enterprise that goes beyond business as usual by bringing Sicilian style natural gelato together with a socially and environmentally minded service. We're creating a business that is based on building and maintaining lasting relationships with our customers by providing a product that is always fresh, always seasonal and uses locally sourced ingredients.
By conducting some small- scale market research in the neighborhood of Hackney, where we live, we registered a gap in the market when it comes to fresh, genuine, organic and seasonal gelato in East London.
We already won a grant and our project will be sponsored by RBS through the 'Make it Real' programme organised by CEWE.
By setting up a pop up shop we would be able to test our product and the market.